FEAST LIGHT DIGICON 2022
REBORNE – Rise of God's Champion
"You are His beloved Child, in whom He is well pleased!"
Be Part of the most "actioned-packed" Feast Light DigiCon 2022
REBORNE – Rise of God's Champion
Happening this September 03, 10, and 17, 2022, Yes! Three (3) consecutive Saturdays!
* September 3 and 10, 2022 – 7:00 PM – 10:00 PM (PST) via Facebook Live and ZOOM.

* September 17, 2022 – Face-to-face Culminating Day, 2:00 PM – 5:00 PM at the Philippine International Convention Center
We believe God is so excited and pleased to meet you at this wonderful event!
We are also delighted to mention that the first two (2) Saturdays will be filled with our power-packed TRILOGY series:
Borne Identity
Borne Supremacy
Borne Ultimatum
We can't contain ourselves to unpack the story behind each Episode…. but one thing is certain, this Feast Light DigiCon is meant and designed just for you.
This event has a PARTICIPATION FEE amounting to P499.00
MODE OF PAYMENT:
BPI Bank
LIGHT OF JESUS FAMILY MEGA MANILA INC.
2901-0034-19
GCASH: 09175707747
Upon your registration and payment, a ZOOM LINK will be sent before the big day of the event. We are excited to see you there. Also, we would like to ask for your FB account (a must to be encoded in the registration sheet as herein provided-the link), so you can be immediately placed (after payment) in the REBORNE FB closed account group, as we broadcast via that link on the big day.
For inquiries, you may contact us at:
EMAIL: thefeastlight@gmail.com or feastlight@yahoo.com
Cellular Number: (0915) 714 0533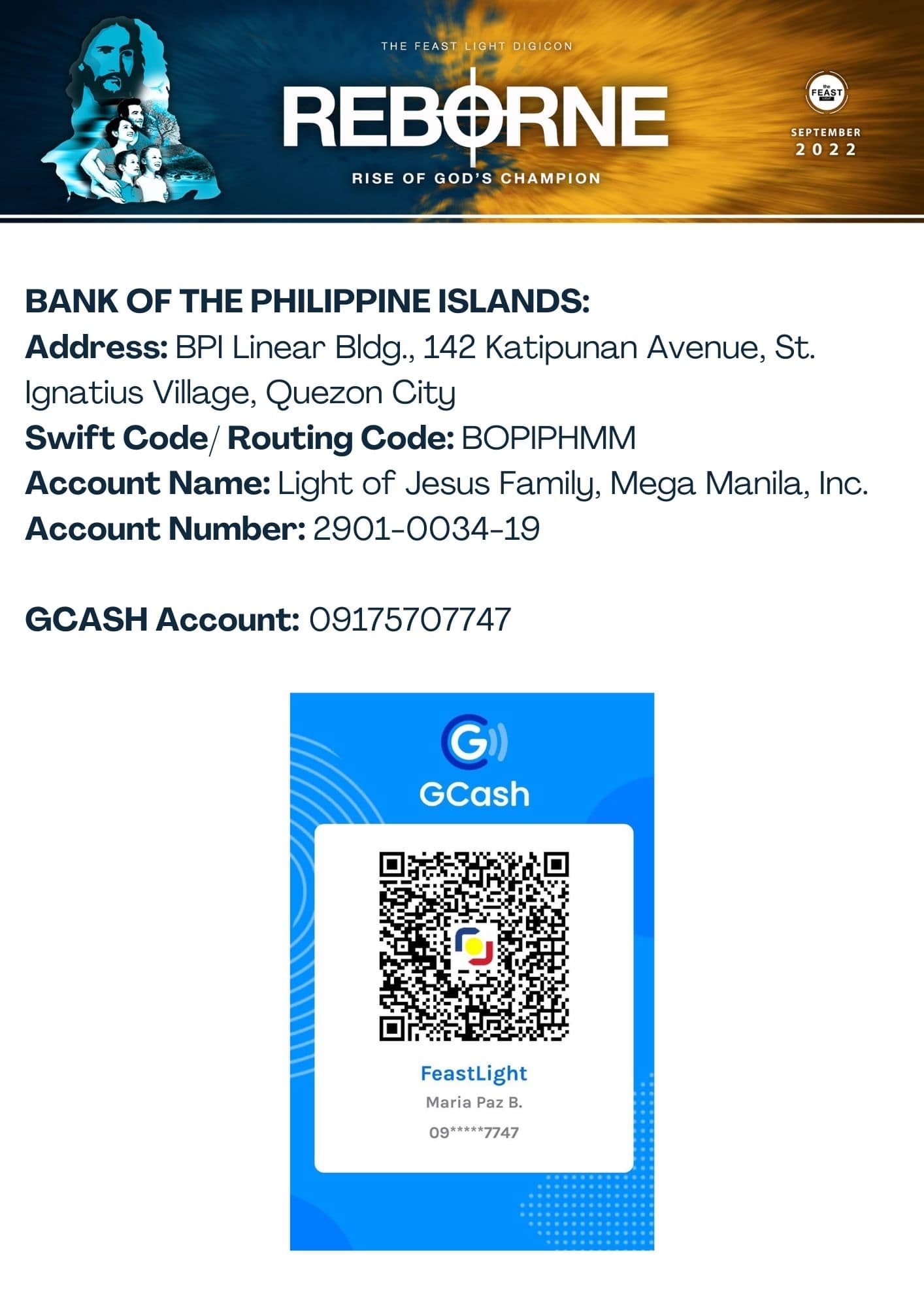 *Kindly send us your proof of payment at (thefeastlight@gmail.com or feastlight@yahoo.com or feast light admin-central FB messenger) so that you can be included in the list of fully paid and be officially registered.

*If you feel blessed and want to share more to send more planters to feel God's love through this event, please let us know.