"The Church is a field hospital after the battle."
– Pope Francis
The Feast in your very own place.
It may be your home, your place of work, school, community organization, or a commonplace amo ng acquaintances, sharing God's Word has been made simpler, easy and practical.
Introducing The Feast Light (formerly The Feast Video), is a weekly gathering of "messy" people sharing stories, a simple meal, and watching life-changing recorded video of The Feast, the live weekly gathering of the Light of Jesus Family.
This Movement of reaching out tothe unchurched, gathering in friendship and prayer, led by a "Planter".
Using the available Light of Jesus enriching and spiritual resources online and via its App (The Feast App), several Feast Light locations have been planted all throughout the world.
Together with Feast Light Coordinators, we will guide, help, and journey with you.
Build a Feast Light Today.
REFILL
LOVE IN CRISIS
May the God of hope fill you with joy and peace in believing,
so that by the power of the Holy Spirit you may abound in hope.
– Romans 15:13
Zoomustahan
Pre-Event Blessings!
12 September 2020 – 3:00 PM to 4:00 PM
Feast Light Digicon 2020
19 September 2020
Via Facebook Live and Zoom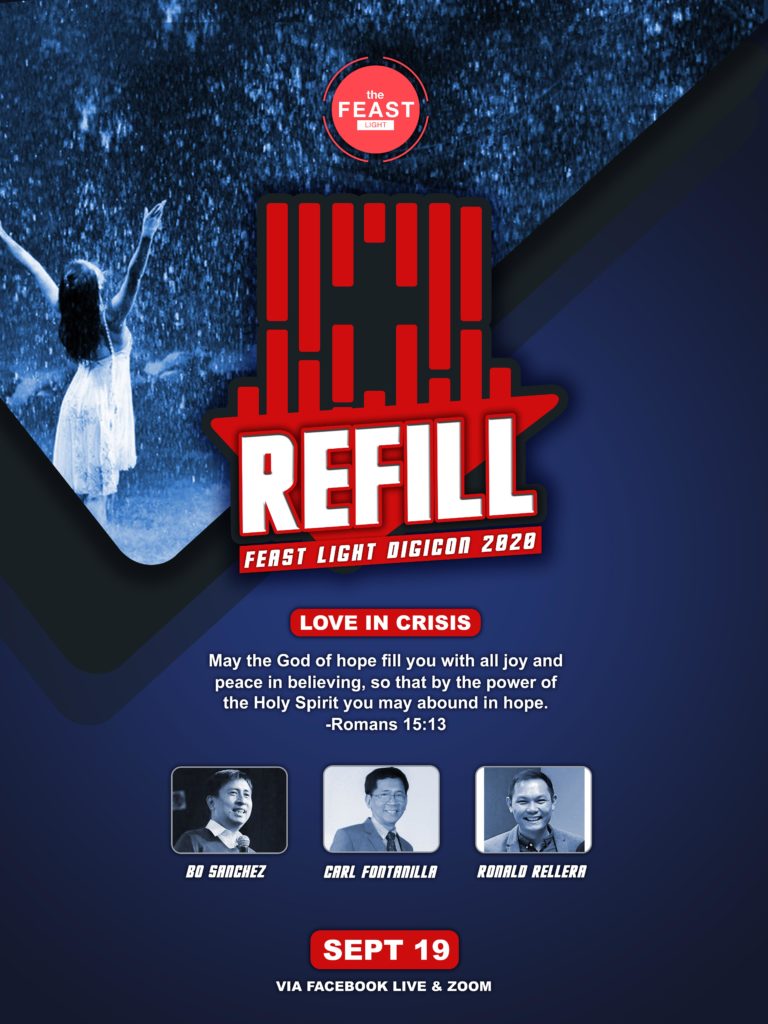 Latest Talk Series:
"Birth of A King"
JESUS IS KING
Making Jesus King of your life is not a selfish act. Some people have a selfish spiritual life. It's all about "me and God". Jesus is simply a visa to heaven, nothing else.
Warning: If you make Jesus King of your life, He'll turn your life upside down. He'll ask you to co-build the Garden of Eden in this world. He'll bless you, yes, but only so that you can be a blessing to the world.
Question: How can you build God's kingdom in your circle? In your workplace? In your area of influence?
Let's end with the words of Pope Paul VI when he said, "Above all the Gospel must be proclaimed by witness. Modern man listens more willingly to witnesses than to to teachers, and if he does listen to teachers, it is because they are witnesses."
Hangouts: Character
Who is your Idol?
In this talk, we are teaching the young people on how they should have Jesus as a priority in their lives. Activity will include an exchange of their focus from what they are comfortable to serving Jesus.